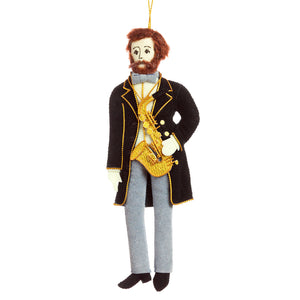 Adolphe Sax Hanging Christmas Decoration 
This handmade hanging ornament of the Belgian-French inventor of the Saxophone is a fabulous gift for any lover of the sax. Antoine-Joseph "Adolphe" Sax invented the saxophone in the early 1840s and patented it in 1846 and is depicted here with his creation. Gold detailing makes this lovely ornament ideal for the Christmas tree. 
Adolphe Sax height: 16cm
All of our tree decoration composers are made for us by a longstanding manufacturer who is a member of BAFTS (British Association of Fair Trade Suppliers) who has worked with the same charity in Thailand for 25 years supporting disadvantaged rural women to find work in their community.