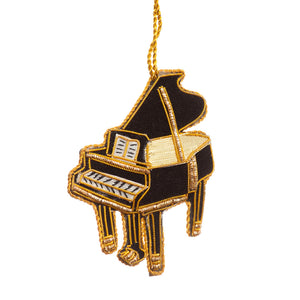 Embroidered Grand Piano Christmas Decoration 
This ornate Embroidered Grand Piano has detailed hand-embroidered stand and pedals and is beautifully adorned with delicate craftwork. This decoration is a really lovely addition to the tree and a great gift. Please note the design is on one side only.
Piano height: 9cm 
All our embroidered designs are made for us by a longstanding manufacturer who is a member of BAFTS (British Association of Fair Trade Suppliers).  The Grand Piano is made using a traditional respected craft of Zari (meaning gold) embroidery by a family-run business in India that have been making decorations for the past 20 years.