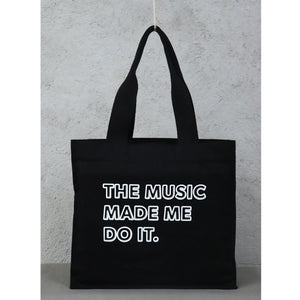 Part of our exclusive Trademarked 'The Music Made Me Do It' ® range, our proprietary design is lovingly hand-crafted onto a fabulous heavyweight tote bag using 100% organic in-conversion cotton under the re-wrap * seed-to-shop scheme. 
Our high-quality heavy-duty tote bags have an integral pocket that is mobile-phone sized, a larger slot for things you need to keep handy and a hook for hanging from. This strong bag is the perfect size for carrying books, music folders and shopping.
Bag size: 39 cm x 36 cm x 12 cm 
Our proprietary design is transfer-printed onto this beautiful bag which forms part of our range of eco-friendly and ethically produced items. Bag is printed with the same design on both sides.
Other items with our 'The Music Made Me Do It' ® design can be found here. 
*
 

re-wrap transforms the lives of small-scale farmers and artisans in rural India by guiding the process from start to finish. By paying a premium on top of market price re-wrap support farmers to produce GOTS certified, 100% organic cotton. Sewing organic seeds and using organic manure to convert land to organic production, the cotton these farmers produce eliminates the use of harmful pesticides and fertilisers that can affect people and the environment. The farmers can expand to grow crops as part of their organic farming cycle. The women making the bags are supported to financial independence through training [women from marginalised backgrounds are actively employed].